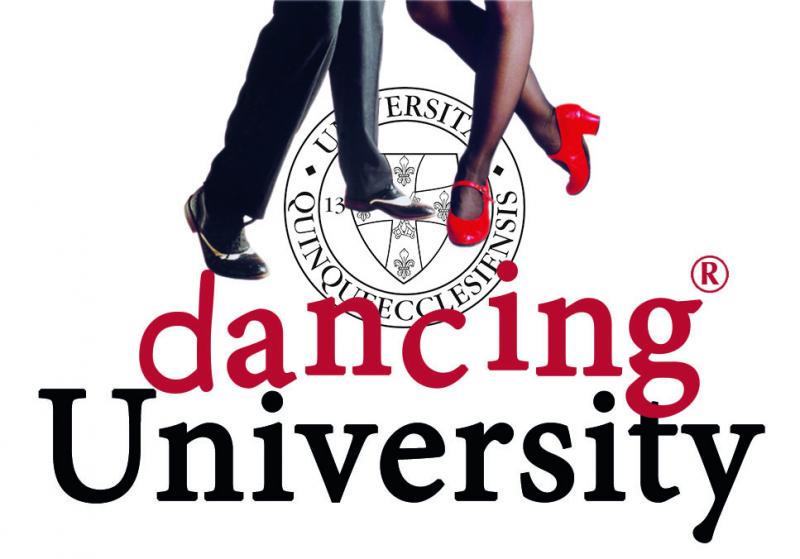 The Dancing University of the University of Pécs is a unique initiative in Hungarian higher education.
The Dancing University was founded at the University of Pécs in 2000. Its main aim was to create an extraordinary leisure-time activity of high quality, which is absolutely unique in Hungarian higher education. It is exercise and entertainment at the same time, the courses can be taken as sports classes or for credit and it also serves as a contact point for students and employees of different faculties.
In 2005 the Dancing University set the Guinness record of "The most people belly dancing simultaneously", and in 2010 it reclaimed the title with 826 participants dancing together at the event. 
In February 2011 the PTE Dance Team was founded in order to be able to perform in the most various dance styles.
Presentation of the Dancing University in Hungarian and some parts in English
Our missions:
- provide a physical, psychological, cognitive, social, and artistic activity for students and employees of the University of Pécs, for citizens of Pécs, and for everybody interested in dancing
- promote the positive effects of dance on children, adults, and seniors as well
- involve people with the most different cultural, social, or religious backgrounds in dance courses
- involve people with diseases or disabilities in dance courses
- take part in scientific research to prove the positive impact of dance on our health and wellbeing
Our results:
- 35,000 participants have attended more than 50 different dance and movement courses.
- PTE Dance Team has had about 300 performances, programs and performances with Hungarian and international artists, evening-length dance shows all over the country, in China and Thailand at the World Leisure Expos, YOUPECOs, in Croatia.
- Participation rate of foreign students is constantly growing, and we also help them get acquainted with Hungarian culture by teaching Hungarian folk dances and involving them in as many programs as possible. 
- We offer appropriate courses to students with learning or behavioral difficulties in partnership with the Support Service and the Inclusive University.
- From 2003, classes can be completed for credit or as compulsory sports courses.
- We started our dance course for Parkinson's disease patients in 2016 to help improve their quality of life. In addition to the dance sessions, participants regularly take part in performances, workshops, scientific research, and educational lectures to prove the positive impact of dance on their symptoms.
- In 2018 we began teaching dance for primary and high school students to help their stress management, development of a healthy body image, and social interaction.
- In 2020 dance classes for in-patients of the Psychiatric and Psychotherapeutic Department supplemented existing therapies. (Page 38-39)
- Due to the epidemiological situation, in the spring of 2020, the PTE Digital Dance Studio was established to continue the semester and introduce new types of dances.
- Due to safety measures, the Parkinson dance continued online.
- We have offered outdoors dance courses at the sports field and in parks of the university since 2021 spring.
- With the professional management of the PTE Dance Team the Pécs Cheer Squad started working in 2021 autumn.
- Several participants wrote their thesis on the project, decided to learn the chosen dance style at higher level later, or became dance instructors.