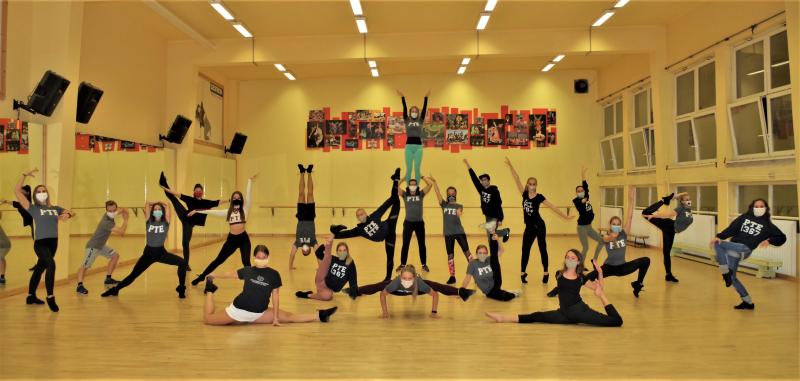 The PTE Dance Team was founded in 2011, its members are students of the various faculties of the University of Pécs, but students of the practice secondary schools can be found among them as well. Their aim is to present high-quality productions at various events, therefore their repertoire includes a very diverse palette of dance styles. Their all-night dance performances have been held in several theaters of the country since 2013, and most recently they performed their joint performance with the Pécs Ballet.
So far, they have performed as dancers for several well-known Hungarian performers, but have also performed with a Roma symphonic and cross-over orchestras, a Spanish flamenco ensemble, singers from Madagascar, Nigeria, and the US. They have also danced as cheerleaders of eight-pair rower teams of Harvard and Princeton Universities. They have performed all around the country, in China, Thailand, and Croatia.
In the Cheerleading category, they have won two Interregional Cups among the competing universities, and in 2018 they became Hungarian champions in the Show Cheer Team category at the Cheer Hungarian University and College National Championship. In 2018 they received the Award for University Culture from the Rector of PTE.
The Dance Team has always paid attention to involve members from all faculties of the universities and from the most different countries. So far we have had members from Japan, Spain, Turkey, Brasil, China, France, Kazakhstan, Nigeria, Pakistan, Russia, Germany, Serbia.
Awards:
2021 VII. Cheer Hungarian University and College National Championship - 2 silver medals
2019 VI. Cheer Hungarian University and College National Championship - silver medal, video                                                                        
2018 V. Cheer Hungarian University and College National Championship - gold medal
2018 Award for University Culture                                                                                      
2017 Interregional Cup cheerleading category, Pécs - gold medal
2015 Interregional Cup cheerleading category, Szeged - gold medal (video), Photos                                   
Evening-length dance shows:
2019 Dance around the world, Croatia                                                                        
2018 Dance, Glamour, Passion promotion, Dance movie mix, Photos                                                                         
2016 Big Adventure Around Marriage - dance comedy, Photos, Audience dancing                                                   
2013-2014 Fabulous... – family dance show, Photos                                                                       
2012 Champage - Dance - Memories – dance show of life, Photos                                                           
Quarantine videos:
Most momentous performances:
2021 University and College Students' National Touristic Meeting Video: Otthon
2021 Welcome musical video for freshmen
2021 Interview and dance performance on a National TV Channel
2020 You are cool in a mask too on TV
2020 National Higher Education Exhibition
2019 Boccia National Championship
2019 XIII. Pécs International Dance Festival                                                                    
2019 Dancers for Zente with dance - charity gala for Zente, a little boy with SMA disease
2019 Liebherr 2019 World Table Tennis Championships 16th ITTF Sports Science Congress, dance teaching     
2019 Folklore Festival és World Leisure Expo, YOUPECO, Bangkok, Thailand More photos1, 2, 3, 4,    
2019 Ball of Democratic Community of Hungarians in Croatia, Croatia             
2019 National Higher Education Exhibition                                                                                              
2018 Sounds concert
2018 City and university award ceremony
2018 Danube Regatta
2018 Ball of the Oscars
2018 National Higher Education Exhibition                                            
2017 Once we were birds - an encounter of the arts                                            
2017 Bye bye 650
2017 World Leisure Expo, Hangzhou, China, Photos 1, 2, 3, 4, 5, 6,                                                                        
2017 PTE 650th Anniversary of foundation, Dead Money concert                                                                                   
2017 University and College Students' National Touristic Meeting                                                                                                  
2017 Fishing on Orfű Music Festival
2017 Danube Regatta (video), Photos                                                                                                    
2017 PTE 650 Jubilee train ceremony
2017 Renaissance ball
2017 Folklore concert, video
2016 World Standard Dance Formation Championship                                                         
2016 Radio 1 flash mob
2016 IV. Pécs National Family Theatre Festival
2016 Danube Regatta                                                                                                  
2015 Pécs Days
2015 Fishing on Orfű Music Festival                                                                                  
2015 Danube Regatta (dance video), Harvard-Princeton Universities in Pécs, Photos                                                                                                 
2014 VIII. Pécs International Dance Festival                                                                       
2014 Hungarian Wine Road Rally                                                                                     
2014 PTE Inter City train
2014 ESN Integration Camp 
2014 Island International Music Festival
2014 II. Pécs National Family Theatre Festival                                                                        
2014 Danube Regatta, Photos                                                                                            
2014 Fabulous... campaign-closing ceremony 
2013 University concert
2013 Interview and dance performance on a National TV Channel
2013 VII. Pécs International Dance Festival                                                                       
2011 Dancing University semester-opening gala with Viktor Király
2011 Pécs National Theatre Meeting